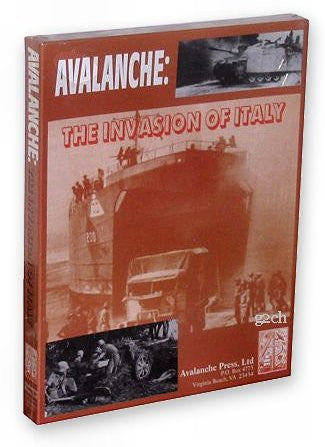 Avalanche: The Invasion of Italy
---

Avalanche recreates the 1943 Fifth Army landing in the gulf of Salerno and the battle to secure the beachhead from 9 - 19 September 1943. Included are U.S. parachute drops, Luftwaffe guided bomb attacks on Allied warships, divisional level leaders, special breakthrough combat and repair, and use of on-map airfields. Scenario options include dropping the 82nd Airborne Division behind the beaches in direct support of the landing or conducting (off-map) the planned drop on Rome in support of Italian forces holding the city.

Avalanche uses a battalion level game system that portrays corps and division level operations. A unit's training and experience is reflected in both its combat strengths and morale. Artillery and armor special abilities are also represented. (from the back box cover)

Avalanche is first in a series of exciting battalion/company games in the Decisive Battles of World War II series.

Avalanche Press is known for its high quality, easy to learn war games with excellent maps and counters. Whether you are a Grognard or new to war games, you will appreciate the amount of effort that this company puts into its game.
Time: 3 to 30 hours
Players: 2
Map Scale: 2 km per hex
Unit Scale: battalions and companies
Counters: 700
Maps: one 22x34 inch map
Rules: yes, no page # listed
Difficulty: medium
Solitaire Play: medium
---
Share this Product
---
More from this collection