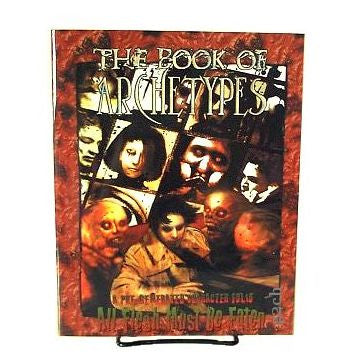 AFMBE RPG: The Book of Archetypes
---

For the fifth time in the game, the Zombies have closed in and eaten your character. Once again it's back to the books for a new character and everyone waits for you to finish up so that play can begin again. With The Book of Archetypes from Eden Studios, you no longer have to wait. You can use one of the forty-one new archetypes directly from the book or alter it slightly to get the character you want.

Firefighter, Bounty Hunter, Ex-Goth Girl, Porn Producer, Crazed Teen, Gamemaster, and Zombie Rights Activist are just a few of the cool new archetypes listed in this resource. Each archetype includes a personality, quote, gear, and full game stats.

There are also six new qualities/drawbacks, two new skills, a new miracle, and new equipment and armor. Players and Gamemasters of All Flesh Must Be Eaten will find this book a fun and valuable addition to their collection of AFMBE materials.

The Book of Archetypes is a 48 page soft cover staple bound book with black and white illustrations.

Use of this book requires the All Flesh Must Be Eaten RPG.
---
Share this Product
---
More from this collection