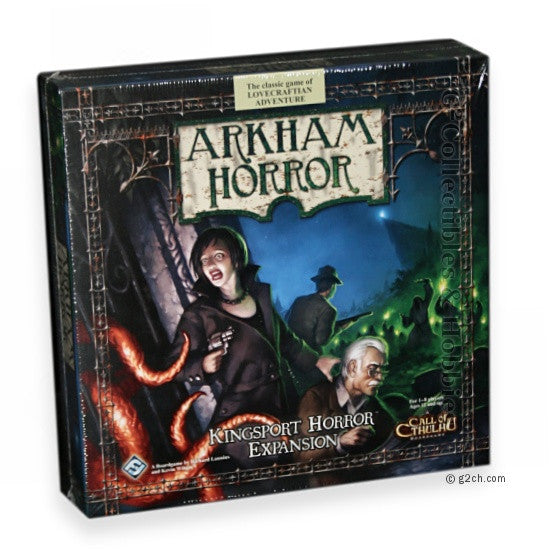 Arkham Horror: Kingsport Horror
---
Return once more to H.P. Lovecraft's vision of Massachusetts, this time to explore the dream-haunted shores of misty Kingsport, a city where the dimensional barriers are at their thinnest. But this place also has powerful guardians, so perhaps the investigators will find someone - or something - willing to help them in their battle against the Ancient One.

Kingsport Horror introduces new game concepts to the Arkham Horror, including wandering dimensional rifts, Epic Battle cards, Guardians, and elusive monsters that must be tracked down before they can be fought. Kingsport Horror also adds eight new investigators, four new Ancient Ones, two new Heralds, over 20 new monster markers, dozens of new items and skills, plenty of new encounters, and an expansion board featuring the city of Kingsport. All in all, this expansion adds over 300 new cards to the base game.

Kingsport Horror requires a copy of Arkham Horror to play. Arkham Horror is a cooperative game for 1–8 players, ages 13 and up, that can be played in 2–4 hours. (from the back of the box)

Kingsport Horror is an expansion for the Arkham Horror board game by Fantasy Flight Games. This expansion includes 1 game board, 1 rulebook, 8 investigator sheets, 3 guardian sheets, 4 ancient one sheets, 2 herald sheets, 24 monster markers, 3 rift markers, 2 waterway tokens, 12 rift progress tokens, 4 gate markers, 1 skill slider, 48 Eihort's brood markers, 8 Bast tokens, 8 investigator markers, 112 investigator cards, 36 Arkham location cards, 56 Kingsport location cards, 22 mythos cards, 32 gate cards, 16 epic battle cards, and 45 ancient one plot cards.
---
Share this Product
---
More from this collection