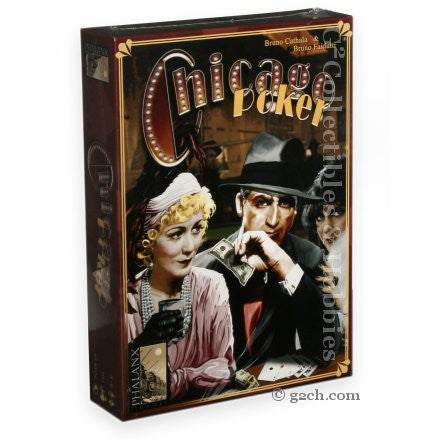 ---

Welcome to the Roaring Twenties! It's the heyday of organized crime in Chicago and you are the boss!

You must take control of legal and illegal sources of profit: speakeasies, gambling houses, jazz clubs, and breweries.

You could do this by sending a few of your boys down to intimidate the owners, but sometimes it's easier to take over at the poker table!

The first boss to take control of the rackets becomes the winner of Chicago Poker! (from the back of the box)

Chicago Poker contains 20 hexagonal business tiles,87 cards, 4 shootout markers, and 1 rules booklet. This is a game for 2 to 6 players ages 10 and up. Game length is roughly 45 minutes.
---
Share this Product
---
More from this collection