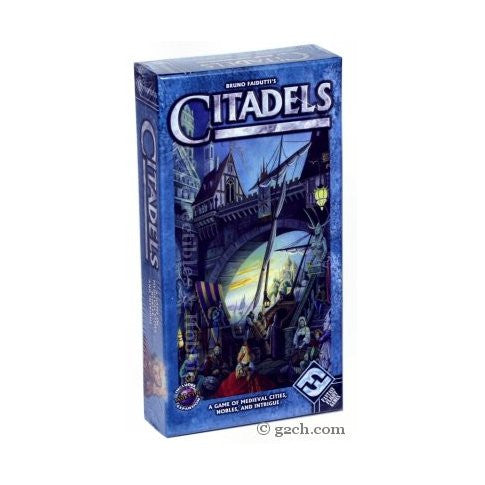 Citadels with Dark City Expansion
---

In Citadels, you are a medieval ruler trying to complete your city before your opponents can build theirs. Expand your city by adding new districts, but be sure to invest wisely: some districts are more valuable than others, but cost more gold to build.

There is more to ruling a city than gold, however. Lords, Ladies and other nobility all have a role to play. The game changes each turn as each player secretly chooses a new role - the Assassin, Thief, Magician, King, Bishop, Merchant, Architect or Warlord - and the power that comes with it.

This edition of Citadels includes the Dark City expansion. This exciting addition to the game features 14 new purple district cards, 10 bonus character cards and a premium wooden 'King' marker.

Citadels is a card game of bluffing, diplomacy, and city-building for two to seven players, ages 10 and up. Citadels is playable in 20 to 60 minutes. (from the back of the box)

Citadels includes 66 District cards, 8 Character cards, 8 Reference cards, 30 gold coins, 1 wooden crown marker, 10 Bonus character cards, 14 Bonus purple district cards.
---
Share this Product
---
More from this collection