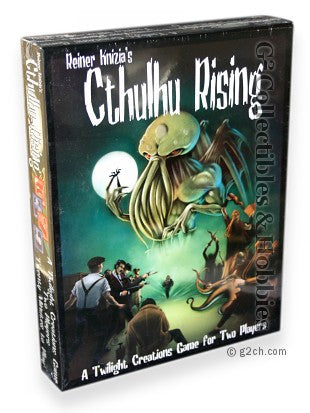 ---

The World is in Your Hands! The Servants of Cthulhu cult, and a group of intrepid investigators, are engaged in a conflict of enormous proportions. If the cultists succeed, Cthulhu will rise from his watery slumber and begin his new reign. The investigators have caught word of the cultists' nefarious plans and have vowed to stop them. The fate of the world is in your hands...

In this deceptively simple game, players compete with their summoning and investigation tiles to complete rows and columns for valuable lines and points. (from the back of the box)

Note that this is not a horror game, just horror themed. This is a reworking of one of Reiner Knizia's eurogame releases. It was originally a game themed with roman gods, but Twilight Creations picked it up and re-themed it with Cthulhu for the US market. It could have just as easily been themed with cats versus dogs, but personally we like the Cthulhu theme that Twilight chose. If you're a fan of Knizia's abstract strategy games, then this is going to be right up you alley.

Cthulhu Rising contains 60 player tiles in 2 colors, 1 game board, and rules. This is an abstract strategy game for 2 players. The manufacturer has not listed any age information on the game. Our best guess is that a game like this is best for ages 13 and up. It plays in an average of 20 minutes.
---
Share this Product
---
More from this collection