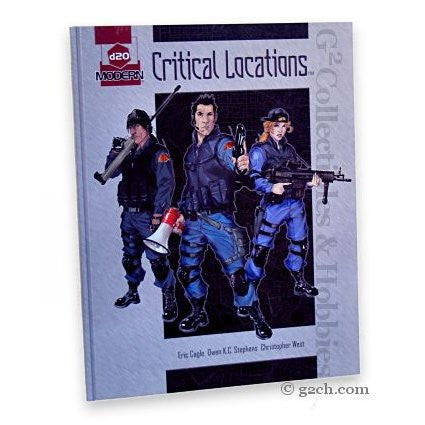 D20 Modern RPG: D20 Critical Locations
---

Got Maps? A gunfight in a sleazy bar. A heart-pounding chase through a subway station. A tense standoff on the top floor of a corporate high-rise. Wherever an adventure takes you, this book has the maps you need. D20 Critical locations features 40 amazing, full-color maps around which Gamemasters can build encounters. The book also includes special rules, game statistics, and adventure seeds designed to save Gamemasters precious time.(from the back cover)

This book includes 29 different locations, fully mapped with numbered keys describing common occupants and structural features. Each location also has ideas for adventures.

This book includes maps for an arctic research station, a bomb shelter, a bowling alley, a cemetery, a cineplex, city hall, a city morgue, a convention center, a corporate high-rise office building, a fast food restaurant, a firehouse, an occult shop, a gothic church, a grocery store, a hotel lobby with fancy restaurant, a lakeside cottage, a large family residence, a large metropolitan bank, a luxury yacht, a mansion, a municipal library, a nightclub, a pawnshop, a sleazy bar, a police station, a public high school, a roadside motel, a small apartment building, and a tv and radio news broadcasting studio.

NOTICE: Despite the reference to the Subway Station on the back of the book - there are no subway station maps or references anywhere in this book! Perhaps there was one originally planned, but WOTC was unable to get it in before the book went to print.

Though officially a D20 Modern product requiring the D20 Modern Roleplaying Game Core Rulebook to use, this is really a book that could be useful to any gamemaster running a setting where modern or even science fiction buildings are needed.

D20 Critical Locations is a 64 page soft cover, perfect bound book with color illustrations and location maps. This is published by Wizards of the Coast (WotC).
---
Share this Product
---
More from this collection