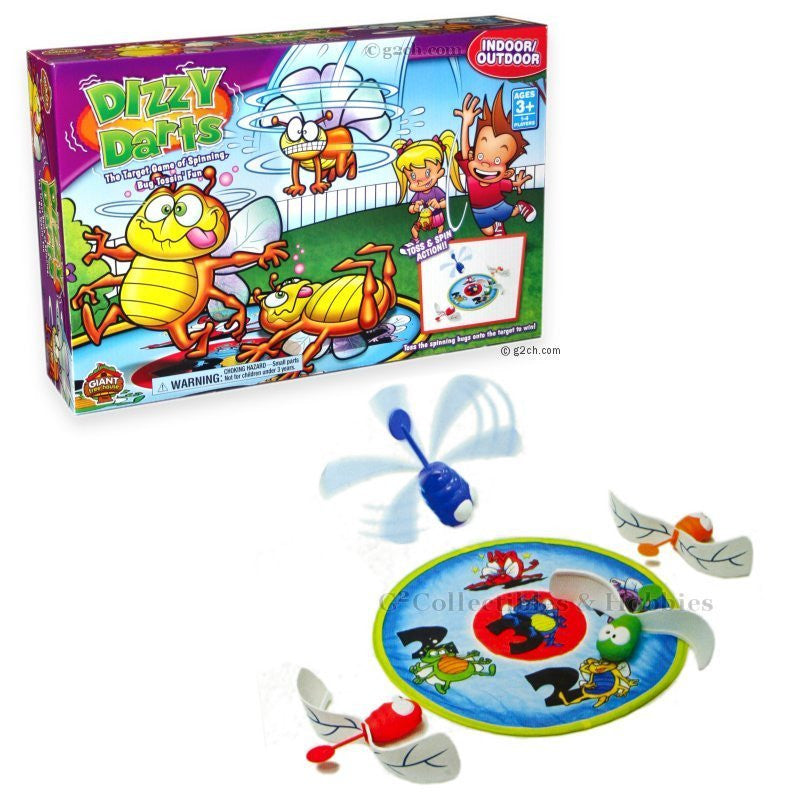 ---
Dizzy Darts is a not so standard yard dart game from Giant Tree House. It features 4 bug shaped "darts" with wings and a target. Players lay out the target in the yard (or indoors if there is enough space) and then choose a distance to toss from. They then toss the bug underhand at the target. This is where it gets interesting. Unlike regular lawn dart style games, the bugs in this game have wings that cause them to wobble. With enough distance on the toss, the bugs will actually spin in the air. Hitting the target can be a fun challenge, even for adults.

This set includes 4 bugs (in red, blue, green, and yellow, roughly 6 inches from head to tail with wings of roughly 10 inches) and 1 pop out cloth target measuring roughly 18 inches across. There are three styles of play suggested on the back of the box (beginner, challenge, and advanced). Once you've mastered one level there is room for continued play.

Dizzy Darts is designed for children ages 3 and up. It can be played indoors or outdoors with 1 to 4 players.

Giant Tree House ensures safety through factory audits and inspections as well as testing all of its products through independent labs in order to ensure that all paints and coatings exceed all recommendations for children's products.
---
Share this Product
---
More from this collection