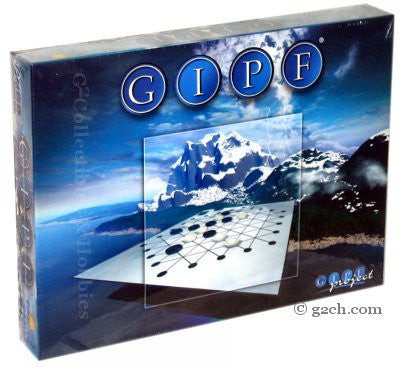 ---

GIPF is a strategy game for two players. on each of your turns you introduce a piece into play, until you get four in a row. Each time you get a row of 4 pieces, you remove it from the board and capture any of your opponents pieces that extend the row. This principle of capturing pieces creates completely different positions on the board time and again. The aim is to form successive rows of at least 4 pieces, until your opponent has no pieces left to bring into play. GIPF is a pure and challenging game that combines classic features with completely new elements. Full of surprises and offering unlimited possibilities, it will appeal to occassional players as well as to fanatic gamers.

GIPF is not only the name of this game, but of a project as well. Project GIPF consists of a series of games and a number of additional pieces, called "potentials". Each game in the project is playable seperately, but also in combination with GIPF It all comes together with a system that makes winning or losing a GIPF-related game a strategic factor of the game GIPF itself. The intention behind this project is to create a wide variety of possibilities and a growing number of components, so that you will be able to decide for yourself which version of GIPF you would like to play at any given moment. (from the back of the box)

GIPF is a game for 2 players ages 9 and up. It plays in an average of 20 to 40 minutes. GIPF contains 1 game board, 18 white basic pieces, 18 black basic pieces, and 1 rulebook.

Originally published in Europe by Don & CO NV, this English language version posted here is the US release from Rio Grande Games. GIPF is the first game in the Project GIPF series.
---
Share this Product
---
More from this collection