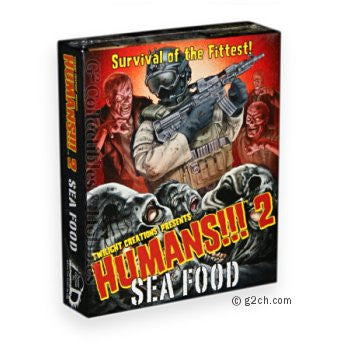 ---

Can zombies swim? Let's face it, when you were alive this question never crossed your mind. And now that you are dead, well, the question still hasn't occurred to you. Although, you may be able to answer it if you could think about something other than how hungry you are…

Humans!!! 2: Sea Food lets you become a member of an elite zombie force: THE ZOMBIE NAVY! You never signed up for this! (from the back of the box)

Humans!!! 2: Seafood contains 16 new map tiles, 16 new event cards, additional rules, and 10 new zombie navy figures with player card. This expansion requires the Humans!!! core set to play.
---
Share this Product
---
More from this collection