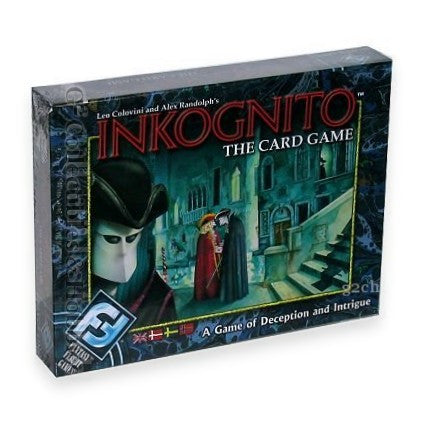 Inkognito: The Card Game of Deception and Intrigue
---

It is carnival in Venice, and you are seeking your partner, one of three other world famous secret agents. Your mission is to make contact with that agent and trade information that will allow the two of you to break into a safe containing the last known whereabouts of a mysterious figure known only as 'the grand old man.' But beware, for another team of agents has been sent to Venice as well to steal the information before you, and one mistake could cost you your life…

In Inkognito: The Card Game, each player is assigned the role of one of four secret agents: Lord Fiddlebottom, Colonel Bubble, Agent X, or Madame Zsa Zsa, and must deduce who the other players are by arranging meetings with them to share tidbits of information. The players may also meet up with 'the ambassador' to gain valuable knowledge about the other spies. The first player to deduce the identities of the other agents and meet up with their partner wins the game. Inkognito is a deductive card game of secrets, lies, and investigation…" (from the back of the box)

Inkognito is designed for 2 to 5 players ages 11 and up. It plays in roughly 20 to 30 minutes on the average. Inkognito comes with a rules booklet, 20 identity cards, 20 code cards, 25 location tiles, deduction worksheets, and privacy screens for each player.

Game designers Leo Colovini and Alex Randolph created Inkognito. It was originally published in Italy by Venice Connection. This version posted here is the US release from Fantasy Flight Games.
---
Share this Product
---
More from this collection