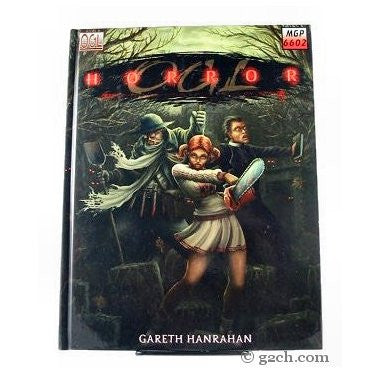 ---

OGL Horror is your key to the hidden world of terror that lurks behind reality's paper thin walls. Whether you are trapped in a world full of zombies, walking alone in a haunted house, or hunting the most twisted serial killer ever, OGL Horror sets the scene and paints the black mood. (from the back cover)

OGL Horror is a complete RPG giving you everything you need to play a game set in a horror world of your choosing. This book covers full character creation and roleplaying rules, equipment, weapons from chainsaws and stakes to more serious hardware such as assault rifles and rocket launchers, full systems for magic and psychics, rules for the power of faith, and tools and sample campaigns for horror gamemasters. There are also sections on psychology and insanity, a bestiary of horror creatures, and information on cults and conspiracies.

Being that OGL really means D20, this means that this book is going to be useable with almost any other D20 game. Some conversion may be required here and there, especially depending on what you would use it with, but overall many of these rules, creatures, and effects could be dropped into any other D20 with little modification.

OGL Horror, from Mongoose Publishing, is a 256 page hardcover bound book with color and black and white illustrations throughout.
---
Share this Product
---
More from this collection