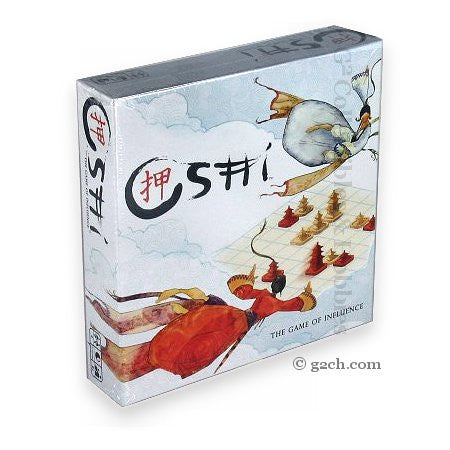 Oshi: The Game of Influence
---

Push the boundaries? Oshi immerses players in an elegant dance of power, as they vie to push each other right off the board in a contest to claim the most influence. In the tradition of games that are easy to learn, fast to play, and fun for all, Oshi encourages you to exert your will. (from the back of the box)

WizKids have done it again with Oshi. A well crafted, artistically beautiful game that can easily be left out on a coffee table inspiring conversation and people wanting to learn to play and a game that is both fun and easy to teach to new players. If you like more traditional games like chess or go then Oshi is a game that will surely please you with its depth of strategy and quick playing time.

Oshi includes 1 wooden game board, 8 ivory playing pieces, 8 red playing pieces, and a rules sheet. Oshi is designed for two players ages 8 and up. Each game plays in roughly 15 to 20 minutes on the average.

"Oshi" in Japanese translates roughly to "push," though it can also refer to "seize," as in territory, a perfect name choice for this game. Here then is your opportunity to seize your copy of this elegant game of strategy today.
---
Share this Product
---
More from this collection