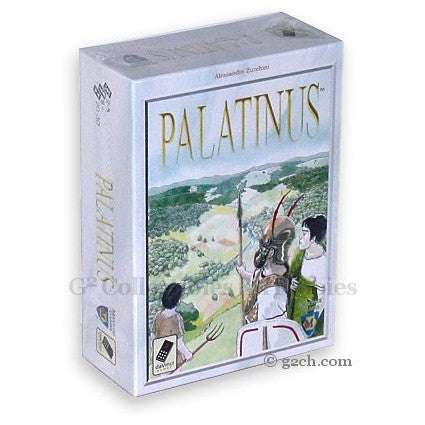 Palatinus : The Seven Hills of Rome
---

780 B.C.: Italian peninsula: The land that will host the foundation of Rome is a center for flourishing trade and harsh fighting. From this struggle with the population that ruled half of the world was born. Who will rule the city that is rising around the Palatinus? (from the back of the box).

In Palatinus, players attempt to control the fields, springs, and people that settled around the seven hills of Rome. Players must carefully choose where they will place inhabitants each turn in order to gain dominance over as many of the seven hills as possible by the end of the game. Only through a careful placement strategy will a player seize the seven hills.

Palatinus comes with 7 territory tiles, 60 inhabitants (including soldiers, farmers, and merchants), 7 laurel tokens, 12 scoring discs, 5 hiding screens, 5 counters, 1 linen bag, and rules. This is a game for 2 to 5 players ages 8 and up. It plays in roughly 20 to 30 minutes on the average.
---
Share this Product
---
More from this collection