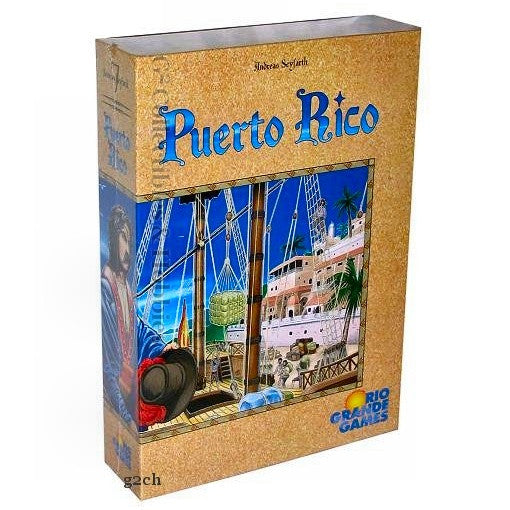 ---

In 1493 Christopher Columbus discovered the eastern-most island of the Great Antilles. About 50 years later, Puerto Rico began to really blossom - through you! Which roles will you play in this new world: Prospector? Governor? Settler? Trader? Whatever you do, you have one goal: to achieve the greatest prosperity and highest reputation! Who will have the most fruitful plantation? Who will build the most impressive buildings? And, who will earn the most victory points? (from the back of the box)

Consistently ranked by game players worldwide as one of the best games ever made, Puerto Rico is a fantastic game created by game designer Andreas Seyfarth that you are sure to enjoy. Puerto Rico was originally published in Germany by Ravensburger Spieleverlag. This English language version posted here is the US release from Rio Grande Games.

This is a game for 3 to 5 players ages 12 and up. It plays in 90 to 150 minutes on the average. It comes with 6 game boards, 50 goods, 100 colonists, 8 quarry tiles, 50 plantation tiles, 54 coins, 50 victory point chips, 9 role cards, 50 buildings, 6 ships, and 1 rule booklet.
---
Share this Product
---
More from this collection