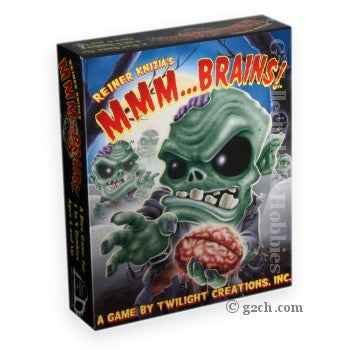 Reiner Knizia's Mmm...Brains!
---

"You're hungry and brains seem to be in short supply!

Reiner Knizia's Mmm...Brains!

In Mmm...Brains! you and your zombie friends roll the dice and rush to collect as many brains as possible. After all the brains are gone, roll the dice and force your opponents to drop their precious brains." (from the back of the box)

Mmm Brains! is a game by Twilight Creations for 3 to 5 players ages 6 an up. It takes roughly 20 minutes to play. The game includes 5 custom dice, 5 player cards, 50 sculpted plastic "brains," and rules.
---
Share this Product
---
More from this collection