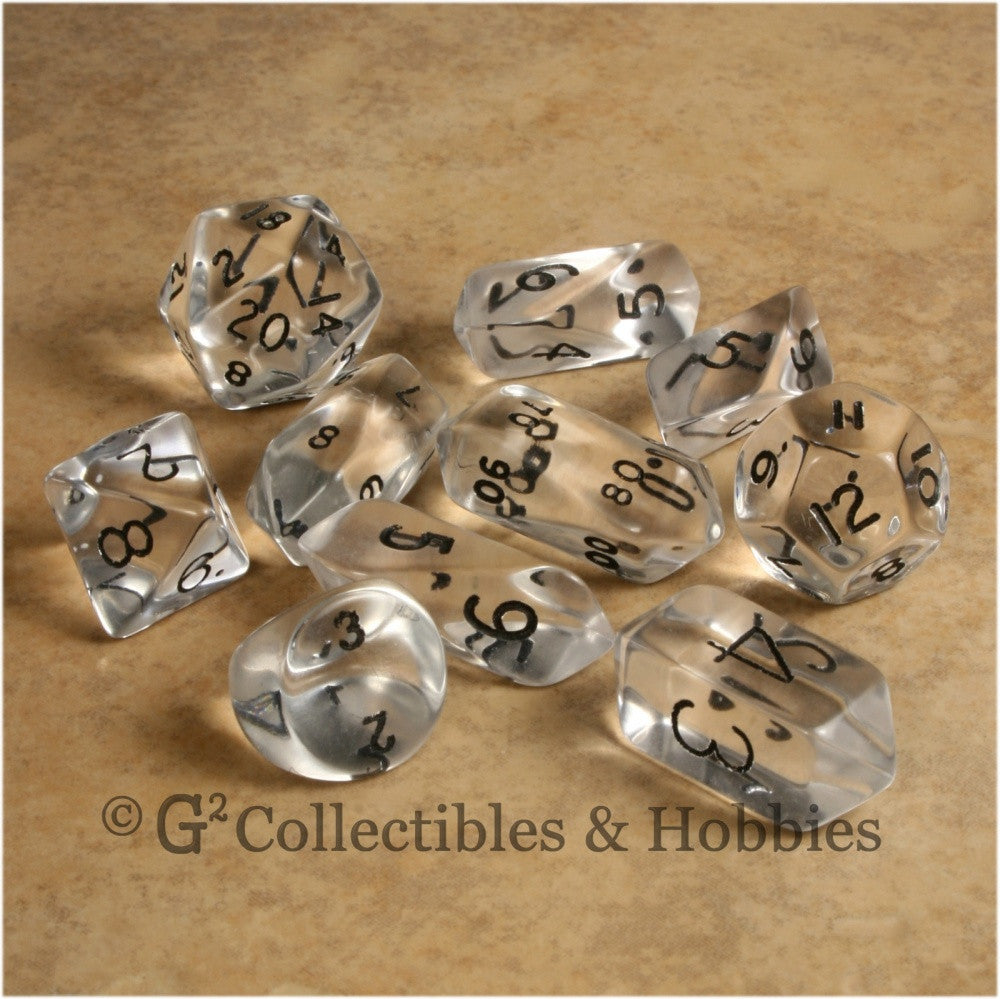 RPG Dice Set Hybrid Transparent Clear with Black Numbers 10pc
---
Quantity: 10 Dice
Type: RPG Set (D&D Style)
Pattern: Hybrid Transparent
Primary Color: Clear
Number/Pip Color: Black
Number/Pip Style: Etched
Size: 16mm - 30mm
Manufacturer: Crystal Caste
This 10 piece Hybrid set from Crystal Caste contains a mixture of standard RPG dice and crystal dice. Crystal dice are dice shaped like geometric crystals. The standard RPG dice are the same design any gamer will be familiar with.

This set is transparent clear in color. The dice have etched numbers in black. The crystal dice are on average 30mm from point to point and about 12mm tall. The standard RPG dice are the average size of 16mm tall to 20mm tall.

This set includes 1 crystal D3, 1 crystal D4, 3 crystal D6s, 1 standard D8, 1 crystal D10, 1 crystal decade D10 (D%), 1 standard D12, and 1 standard D20.

Please note that transparent crystal dice can show signs of manufacturing stress on the points (appearing as small scratches or lines). This happens most often on the D10 and decade D10. Rarely have we seen this on the other types of transparent crystal and we do not see this at all on opaque crystal dice. This is normal and really not that noticeable when using them while playing a game. But in the interest of you knowing as much as possible about what you are buying, we believe it is important to mention this.
---
Share this Product
---
More from this collection