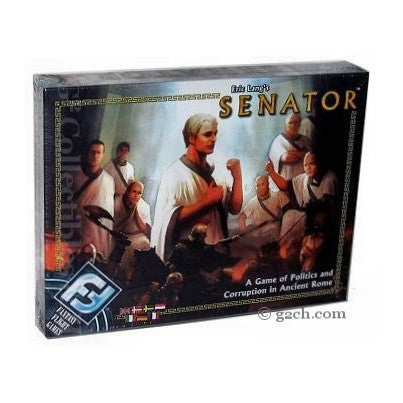 Senator: A Game of Politics and Corruption in Ancient Rome
---

Stab your opponents in the back, advance your family's power, practice your diplomacy, protect Rome, and ultimately get rid of the senate and seize the title of Caesar. In Senator, your friends and you will take on the role of influential Roman statesmen seeking to both protect the Empire and gain personal power.

Along the way you will be faced with economic instability, revolts in the conquered provinces, plagues, and wars with the enemies of Rome. Players must both cooperate to protect the Roman Empire and at the same time compete to advance their own agendas.

How much of the security of Rome's citizens will you risk to rise to Emperor?

Senator is a board game for 3-5 players ages 8 and up. It plays in an average of 60 minutes.
---
Share this Product
---
More from this collection