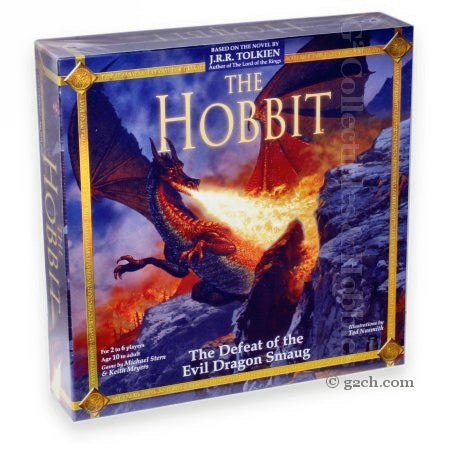 The Hobbit: The Defeat of the Evil Dragon Smaug
---

Embark on a great adventure based on J.R.R. Tolkien's legendary novel, the forerunner to the Lord of the Rings. Try to safely navigate your way to the Lonely Mountain and reclaim all the treasure that the evil dragon Smaug is hiding... but beware the treasure is fiercely guarded and must be won in battle!

Will you trade your jewels for adventure points? Can you successfully answer the riddles or recite the songs? Do you have the courage to steal a jewel right from under Smaug's nose?

On this adventure you'll travel through the Edge of the Wild, the Misty Mountains, the Carrock, Mirkwood, Long Lake, and finally confront the Desolation of Smaug. Each terrain will yield magical encounters and valuable treasure. All your wit, luck and skill will be tested.

Are you up to the challenge to be crowned King Under the Mountain? This is a game that will entertain and enchant you time and time again! (from the back of the box)

The Hobbit is a great family boardgame for 2 to 6 players ages 10 and up.

The Hobbit includes 1 gameboard, 72 Gandalf-adventure cards, 2 six-sided dice, 1 twenty-sided die, 6 hobbit figures, 60 glass gems, 6 tracking cards, 1 Lonely Mountain centerpiece, 1 Smaug the dragon cut-out for top of the Lonely Mountain, 6 markers, 1 spinner card, and rules sheet.
---
Share this Product
---
More from this collection