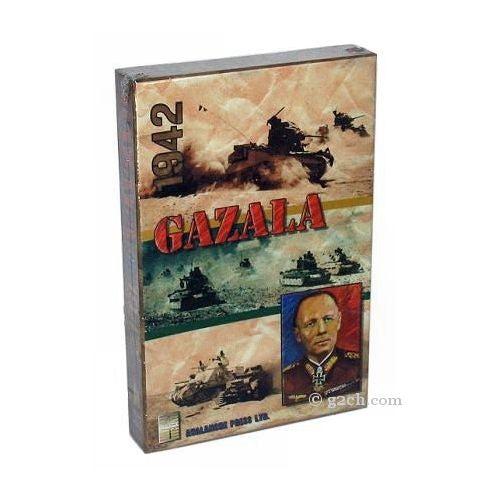 Gazala 1942: Rommel's Greatest Victory
---

Starting with the Italian invasion of Egypt in September, 1940, war flowed back and forth across the North African deserts for 18 months. The summer of 1942 found the Axis and Allied armies facing one another west of Tobruk, where the Commonwealth forces had dug in behind extensive minefields. Each army prepared to renew the offensive, but the Axis won that race. On the night of May 26th four mobile divisions turned the southern flank of the British line at Gazala.

Gazala simulates the critical battle in the summer of '42 that led to the fall of Tobruk and the arrival of the Axis armies at the gates to the Nile delta. With 140 game pieces and one 22x17-inch map, Gazala's three scenarios can be played in one to eight hours. The game system is very similar to that in America Triumphant and Alsace 1945, with the addition of anti-tank fire. Most units are brigades or regiments, with a few battalions as well (usually tanks). Italian, German, British, South African, Indian and Free French units are represented. (used by g2 with the permission of Avalanche Press from the AP website)

Avalanche Press is known for its high quality, easy to learn war games with quality maps and counters. Whether you are a Grognard or new to war games, you will appreciate the amount of effort that this company puts into its game.
Rules: 16 pages
Difficulty Level: 3 of 5 stars
Solitaire Play: Good
Time: 2 to 4 hours
# of Players: 2
Scale: 4 kilometers per hex
Playing Pieces: 140
Playing Board:22 x 17-inch map
---
Share this Product
---
More from this collection