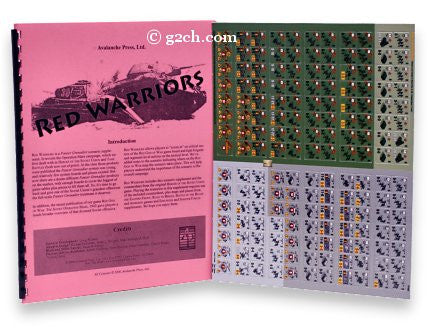 Panzer Grenadier: Red Warriors
---

Crushed by the initial Nazi onslaught, the Red Army reeled back across hundreds of miles. But as resistance stiffened, it became clear that some highly-motivated units fought better than others. These became the Guards, first named in September 1941. They became the Red Army's best troops, with better training, equipment and pay than the regular army.

While the Soviet Guards are of excellent quality, the supplement also includes German Air Force (Luftwaffe) ground troops of rather dubious merit, plus German Army forces.

Scenarios cover actions of these units in the first two years of the Great Patriotic War, many of them focused on the Soviet Operation Mars (used by g2 with the permission of Avalanche Press from the AP website)

Red Warriors is not a stand-alone title. It requires ownership of Eastern Front, Road to Berlin, and Battle of the Bulge to play all of the scenarios included.

The counters and half of the scenarios originally appeared in Heroes of the Soviet Union (a Panzer Grenadier title now long out of print). The scenarios have been revised to use many of the new boards and counters from newer Panzer Grenadier releases.

Avalanche Press is known for its high quality, easy to learn war games with quality maps and counters. Whether you are a Grognard or new to war games, you will appreciate the amount of effort that this company puts into its game.
Time: 30 minutes to many hours depending on scenario
Players: 2
Map Scale: n/a
Unit Scale: platoons
Counters: 165 2/3 inch
Maps: none included
Rules: 20 scenarios
Difficulty: 2 of 5 stars
Solitaire Play: Excellent
---
Share this Product
---
More from this collection