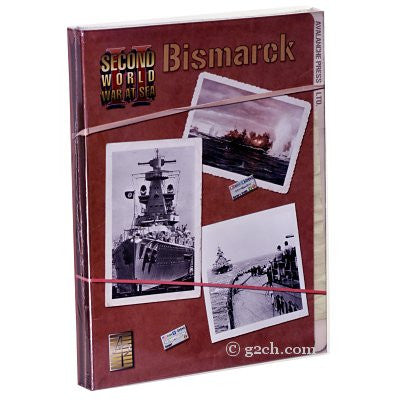 Second World War at Sea: Bismarck
---

?The German battleship Bismarck, 40,000 tons of armored menace, breaks out into the Atlantic to be hunted by the Royal Navy. Includes the many German raiding expeditions of 1940 and 1941, and the huge American commitment to stop them despite neutrality laws. Can you sink the pride of the Nazi fleet or, as the German player, wreak havoc in the Atlantic?

Players plot the movement of their tasks forces and the launch of air strikes in advance. When opposing forces meet play moves to the tactical map, where combat is resolved. Scenarios recreate the historical missions as well as those that might have occurred but did not.? (from the back of the box)

This is a full, stand-alone game from the Second World War at Sea series.

Avalanche Press is known for its high quality, easy to learn war games with quality maps and counters. Whether you are a Grognard or new to war games, you will appreciate the amount of effort that this company puts into its games and supplements.
Time: 30 minutes to many hours
Players: 2
Map Scale: 36 miles/sea zone
Unit Scale: Ships / Fleets
Counters: 210 1 inch and 280 1/2 inch
Maps: Two 34x22 inch operational map and one 25x25 inch tactical map
Rules: 16 pages & 16 pages of scenarios
Difficulty: 2.5 of 5 stars
Solitaire Play: Fair
---
Share this Product
---
More from this collection