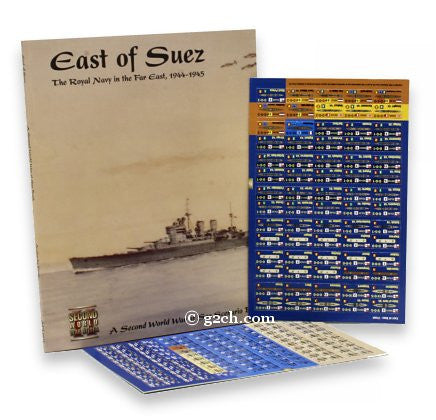 Second World War at Sea: East of Suez
---

?East of Suez is a 64-page scenario book for the Second World War at Sea series. It covers Churchill?s plans, which ranged from the hopelessly optimistic to the patently absurd, and the Royal Navy?s operations in the Pacific alongside the Americans in 1945. Background articles and scenarios describe the operations executed and those planned by the British Eastern and Pacific Fleets from 1943 to 1946. The Dutch East Indies Squadron is also covered by article and scenarios.

Like Dreadnoughts, East of Suez includes die-cut, mounted game pieces: 70 ?long? ship pieces and 140 standard-sized pieces, most of them representing aircraft. The British receive the battleships Vanguard, Duke of York and Anson, numerous light and escort carriers, and a number of cruisers and destroyers. The French battleship Richelieu, the Dutch battlecruisers and light cruisers of the 1939 building program, and British jet fighters (even the SRA-1 seaplane jet fighter) are all present.? (used by g2 with the permission of Avalanche Press from the AP website)

East of Suez is not a stand-alone title. It requires ownership of Eastern Fleet, Strike South, Bismarck and Leyte Gulf to play all of the scenarios included.

Avalanche Press is known for its high quality, easy to learn war games with quality maps and counters. Whether you are a Grognard or new to war games, you will appreciate the amount of effort that this company puts into its game.
Time: 30 minutes to many hours depending on scenario
Players: 2
Map Scale: n/a
Unit Scale: Ships / Fleets
Counters: 70 1 inch and 140 1/2 inch
Maps: none included
Rules: 36+ scenarios
Difficulty: 2.5 of 5 stars
Solitaire Play: Fair
---
Share this Product
---
More from this collection